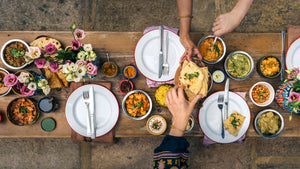 Unique catering experiences
We don't just do food – we create memories.  From intimate family gatherings or dinner with friends to stylish corporate events or fabulous wedding feasts, our exceptional and innovative menus will give you and your guests something truly unique to remember for ever. Our authentic flavours and stunning presentation are evident in every mouth-watering morsel, be it delicate canapés, stylish mains or stunning desserts.
Party in a Box
We also offer a Party in a Box option – a bespoke service – cooked especially for you. We can also provide eco-friendly palm leaf plates, bamboo cutlery and napkins to save on the washing up! Contact us for more information.
Our fabulous food freshly cooked in larger catering trays and delivered chilled to any UK address. All you need to do is to heat and serve.
6 things you get when we cater for you
1) A freshly cooked, bespoke menu out of a 5-star rated commercial kitchen – tailored to your budget, dietary preferences and seasonal produce.
2) A professional team that swings into action – taking the time and trouble to find out every little detail, even down to the weather forecast! Even our simplest menus offer choices and our takeaway menus are always accompanied by heating instructions and thoughtful extras such as the use of chafing dishes, should you need them.
3) A truly unique event – be it a bride with an Indian connection, a 90th birthday girl born during the Raj or a book launch on spirituality, our food will reflect this in a special way. From draping guests in saris, buying bangles and henna tattoos from Indian markets, shopping for the best fresh flower garlands in town and even washing up 150 tiffin carriers to be filled with fabulous sweets for guests to take home, nothing is too difficult or too much trouble for us.
4) A one-to-one session with every guest over chai and samosas before their special event, eagle-eyed kitchen inspections to ensure everything runs to plan, tastings for much-in-love couples, Bollywood playlists for the dance floor and even advice on paired Indian-inspired cocktails to make sure the bar is second to none.
5) Keepers of many secrets prior to the party, sprinklers of fairy dust and Bollywood sparkle, smoothers of frayed pre-wedding nerves and the executors of a spotless kitchen after the event.
6) Advice, humour, laughter, common sense and peace of mind, along with the boring bits like assurance of a £5M insurance, following every H&S rule in the book, approved suppliers and knowing our allergens.  Every member of staff from our cook to our cleaner is vetted and trained. And the freshly cooked authentic food from our hearts is always a bonus!
If you are looking for some proper Indian food, give us a call, drop us an email, or pop into the shop and say hi.